Welcome to Kindred Healthcare's Nursing and Therapy Student Programs. By partnering with academia to provide robust student clinical experiences, we are investing in both our own employees as well as developing future healthcare professionals. As a student or a recent graduate, you bring a fresh and unique perspective that allows us to stay current on the latest trends, research and innovations in patient care. In return, we offer exceptional educational assistance and career development opportunities, allowing you to build a rewarding future and touch many lives along the way.

Nursing Students
We are here to support you as you complete your nursing education with resources available from this website made especially for you. Kindred Healthcare provides new and aspiring nurses the opportunity to work with patients in long-term acute care hospitals, inpatient rehabilitation hospitals and behavioral health hospitals.
For questions or concerns, please contact our Program Manager:

Laura.Dailey@Kindred.com 314-659-2116

Therapy Students
Kindred Healthcare provides behavioral, physical, occupational and speech language therapies at its locations across the country. Therapy is available in our long-term acute care hospitals, inpatient rehabilitation facilities, behavioral health hospitals and acute rehabilitation units.
For questions or concerns, please contact our Program Manager:

Brooke.Doherty@Kindred.com 314-659-2646
Black Lives Matter. The Kindred Student Programs/University Relations Team strives to demonstrate actions that support the understanding of why "Black Lives Matter." It is more than a slogan to us. We value all of our students and recognize that our students of color enrich our community as they add to the diversity of Kindred Healthcare. We know that diverse students bring their perspectives and experiences as new and emerging healthcare professionals. At Kindred, you will see and feel our continuous efforts to improve our culture of inclusion and equity for everyone. See Where Our
Students are Learning
Kindred is the nation's largest specialty hospital company. We provide clinical education opportunities for students in long-term acute care hospitals, inpatient rehabilitation hospitals, hospital-based acute rehabilitation units, and behavioral health hospitals. Click the below button to explore participating Student Program facilities by state.
View Featured Facilities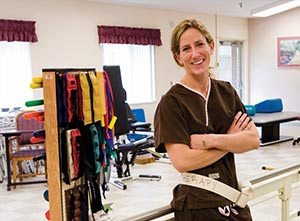 Training, Support, Experience & Expertise
Kindred delivers interprofessional clinical services to support patients and manage their care across the country. Our nearly 24,000 dedicated and caring employees deliver healthcare services to more than 375,000 patients annually in 327 locations across 35 states. Whether this treatment takes place in long-term acute care hospitals, inpatient rehabilitation hospitals, acute inpatient rehabilitation units, or behavioral health hospitals, Kindred's clinical care consistently exceeds national benchmarks.
---
---
Resources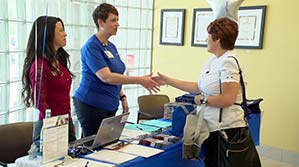 Campus Events
View our Events Calendar to see if we will be at your school or hosting an event near you any time soon.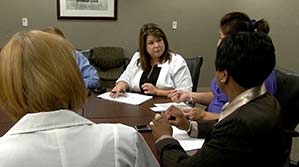 Therapy Licensure Boards
Find information on State Therapy Licensure Boards by selecting the discipline below. You can also search archived articles, review expert clinical advice and access helpful professional links and information.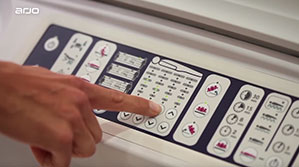 Create Your Profile & Stay Connected
To ask questions, apply, and receive the latest updates and clinical resources from Kindred Student Programs, please fill out your student profile. Join us and see what a collaborative and positive work environment supported by a strong team of clinical leaders can mean for you.
Kindred Student Programs has a robust social media presence. Check out what's new and exciting now.