Kindred Rehabilitation Services
We are Kindred Rehabilitation Services, one of the largest providers of rehabilitation therapy in the country, offering care to patients at more than 300 locations across different settings within the care continuum.
Inpatient Rehab Hospitals

Join our talented team at one of our joint venture hospitals across a dozen states. Kindred is one of the nation's leading operators of Inpatient Rehabilitation Facilities (IRFs), and we bring proven rehabilitation management and services expertise that benefits our partners as well as the nearly 35,000 patients we see each year.

Kindred Hospital Rehabilitation Services

You can be a part of our dedicated Kindred Hospital Rehabilitation Services (KHRS) team.We partner with hospitals nationwide to manage and/or facilitate the rehabilitation therapies within their hospitals.
Inpatient Rehabilitation Hospitals
We all know that healthcare delivery is local, serving patients you know in your community. That's why we are the partner of choice in rehabilitation for many major hospital systems across the country. We collaborate with local hospital partners to provide our patients with positive clinical and operational outcomes. Our patients often have faster recoveries from a number of conditions, including stroke, brain injury, spinal cord injury, orthopedic injury, neurological conditions, amputation and trauma.
Passionate Advocacy. Greater Access. Excellent outcomes.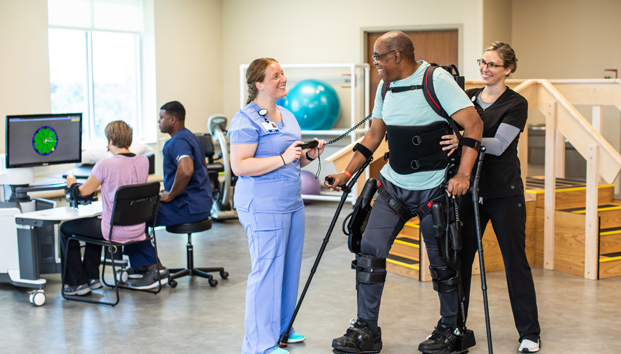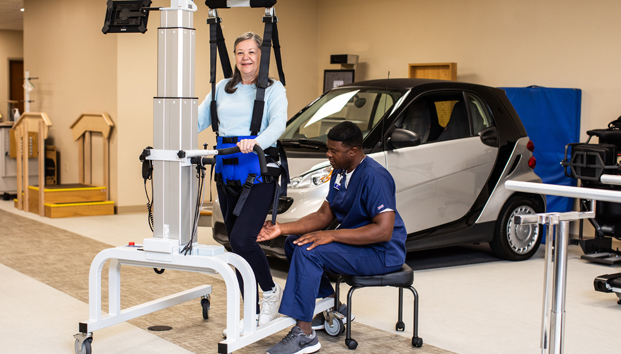 | Facility Name: | Location: |
| --- | --- |
| Atlantic Rehabilitation Institute | Madison, NJ |
| Anderson Rehabilitation Institute | Edwardsville, IL |
| Baptist Memorial Rehabilitation Hospital | Germantown, TN |
| Central Texas Rehabilitation Hospital | Austin, TX |
| CHI Franciscan Rehabilitaion Hospital | Tacoma, WA |
| Community Rehabilitation Hospital North | Indianapolis, IN |
| Community Rehabilitation Hospital South | Greenwood, IN |
| Dignity Health East Valley Rehabilitation Hospital | Chandler, AZ |
| Knoxville Rehabilitation Hospital | Knoxville, TN |
| Lancaster Rehabilitation Hospital | Lancaster, PA |
| Mercy Iowa City Rehabilition Hospital | Coralville, Iowa |
| MercyOne Clive Rehabilitation Hospital | Clive, IA |
| Mercy Rehabilitation Hospital Fort Smith | Forth Smith, AR |
| Mercy Rehabilitation Hospital of Springfield | Springfield, MO |
| Mercy Rehabilitation Hospital Oklahoma City | OKC, OK |
| Mercy Rehabilitation Hospital St. Louis | Chesterfield, MO |
| Methodist Rehabilitation Hospital | Dallas, TX |
| Palomar Health Rehabilitation Institute | Escondido, California |
| ProHealth Rehabilitation Hospital of Wisconsin | Waukesha, WI |
| Rehabilitation Hospital of Montana | Billings, MT |
| Rehabilitation Hospital of Rhode Island | North Smithfield, RI |
| St. Mary Rehabilitation Hospital | Langhorne, PA |
| Texas Rehabilitation Hospital of Arlington | Arlington, TX |
| Texas Rehabilitation Hospital of Fort Worth | Fort Worth, TX |
| Texas Rehabilitation Hospital of Keller | Keller, TX |
| University Hospital Avon Rehabilitation Hospital | Avon, OH |
| University Hospitals Rehabilitation Hospital | Beachwood, OH |
| UW Health Rehabilitation Hospital | Madison, WI |
---
Kindred Hospital Rehabilitation Services
Based on the needs of each of our hospital partners, we provide custom expertise to enhance the management and/or delivery of rehabilitation therapy. To make this happen, we have to hire great people!
Acute Rehab Unit Management – Many hospitals prefer to maintain ownership of inpatient rehabilitation, but seek to partner with an expert to manage the operation. That's why many healthcare providers choose Kindred. We are the largest contract manager of hospital-based acute rehabilitation programs in the country, serving 100 hospitals in 27 states.

Acute Care Therapy Management – Many acute care providers choose to partner with us not only for the management of therapy services but also for delivery within their hospitals. That's where compassionate and high-quality caregivers like you come in! We are the nation's largest provider of therapy services, and our goal is to provide the right therapy at the right time to help our patients reach their fullest potential.

Outpatient Therapy Management – Hospitals also turn to us to deliver outpatient therapy management. We help our hospital partners navigate the challenges around regulations, reimbursement, operations, patient access, referral development and community education. As the nation's largest provider of therapy services, KHRS brings proven expertise to outpatient rehabilitation that results in improved clinical outcomes for the patients and improved financial performance for our hospital partners.
Sign up for Job Alerts
Get the latest job openings based on your interests, skills and background sent directly to your inbox.
Connect with Our Recruiters
Share some preliminary info about yourself and we will contact you to discuss your interests and career and future opportunities.