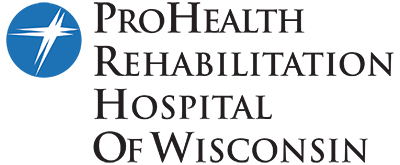 Rehabilitation Technician - PRN
Waukesha, Wisconsin
Job # 415249
Date posted 08/24/2021
Description
The Rehabilitation Hospital of Wisconsin (RHOW) is a state-of-the-art, 40-bed Inpatient Acute Rehabilitation Hospital that is dedicated to restoring lives. We are a result of the joint venture/partnership between ProHealth Care and Kindred Healthcare to meet the growing rehabilitation needs of the region.
RHOW specializes in treating patients with many diagnoses, including, but not limited to, stroke, brain injury, amputation, neurological and cardiac disorders. In 2016, RHOW has received Joint Commission Disease Specific Specialization in Stroke and Amputee Rehabilitation.
The Rehab Tech is responsible for preparing treatment areas, cleaning treatment areas, positioning patients, procurement and inventory of supplies, transporting, and assisting patients and therapist.
ESSENTIAL FUNCTIONS:
Job Specific:
Transports patients to and from the Therapy Gym.

Prepares patient for prescribed treatment and assists professional staff with patient treatment.

Follows plan for discharge and discusses with clinical staff any additional discharge concerns which arise during care of the patient.

Prepares, cleans and maintains treatment areas and equipment.

Procures and keeps an accurate inventory of all therapy supplies.

Performs routine clerical tasks for Therapy Department.
Company Specific:
Adheres to dress code, appearance is neat and clean and wears appropriate identification while on duty

Completes annual health, safety, and education requirements. Maintains professional growth and development.

Maintains confidentiality of all patient and/or employee information to assure patient and/or employee rights are protected.

Demonstrates knowledge of the principles of growth and development over the life span and the skills necessary to provide age appropriate care to the patient population served.

Reports to work on time as scheduled; adheres to policies regarding notification of absence.

Attends all mandatory in-services and staff meetings.

Represents the organization in a positive and professional manner.

Complies with all organizational policies regarding ethical business practices.

Communicated the mission, ethics, and goals of the hospital, as well as the focus statement of the department.

Maintains current licensure/certification for position, if applicable.

Consistently demonstrates Guest Relation's skills to patients, physicians, visitors, employees, and any other individuals with whom they may come in contact.

Consistently follows departmental and hospital Health, Safety, Security, Hazardous Materials policies and procedures.

HIPAA: Conduct job responsibilities in accordance with HIPAA privacy laws, follow hospital policy in provision of patient confidentiality. Able to identify patient confidentiality issues and reports to proper hospital personnel immediately.

Compliance: Conducts job responsibilities in accordance with standards set forth in Kindred's Code of Conduct, Kindred policy and procedures, applicable federal and state laws, and applicable standards.
#MON-HRS
Qualifications
QUALIFICATIONS:
High School diploma

CPR/BCLS Certification

Minimum six months experience in an acute or long term facility preferred.
Sign up for Job Alerts
Get the latest job openings based on your interests, skills and background sent directly to your inbox.
Connect with Our Recruiters
Share some preliminary info about yourself and we will contact you to discuss your interests and career and future opportunities.