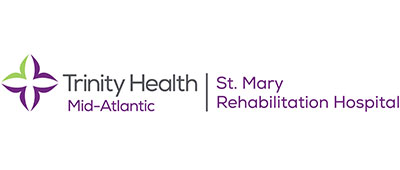 Rehabilitation Therapy Manager
Langhorne, Pennsylvania
Job # 417518
Date posted 09/27/2021
Description
The first and only freestanding, inpatient acute rehabilitation hospital in Bucks County.
St. Mary Rehabilitation Hospital (SMRH) embraces the tradition of excellence for which St. Mary Medical Center is known. We are very proud of our patient outcomes.
St Mary Rehab Hospital has been ranked in the top 25 percent of all rehab hospitals by UDS (Uniform Data Systems) for multiple years.
Our state-of-the-art, acute rehabilitation hospital features 50 spacious, private rooms and two specialty units (brain injury and stroke recovery).
Our highly skilled, clinical staff is dedicated to the treatment and recovery of individuals who have suffered:
Neurological conditions including:
Parkinson's Disease

Multiple Sclerosis

Guillian-Barre Syndrome

Polyneuropathy

Brain Injury

Spinal Cord Injury

Orthopedic Injury

Amputation
Medically Complex Illnesses including:
Cardiac Disease

Pulmonary Disease

Renal disease
JOB SUMMARY:
The Therapy Manager is responsible for assisting the Director of Therapy Services with the ongoing assessment and improvement of Therapy Services.  Such responsibilities encompass not only the internal functioning of the department, but also the integration of the department into the overall functioning of the organization and its clinical programs.  The Therapy Manager works in collaboration with the Director of Therapy to ensure optimal functioning of both inpatient and outpatient (if applicable) therapy departments.  The Therapy Manager will also assume responsibility and accountability for a designated group of patients and provides therapy evaluations, modalities and treatments, etc. in accordance with established hospital and departmental policies and procedures, maintaining the highest degree of quality patient care.
The Manager participates in performance improvement and program development activities. Responsibilities include providing input into the budgetary planning process; contributing to cost effectiveness of services and programs provided by the department; communicating the employee's observations and suggestions related to opportunities for improvement; and maintaining positive relations with all customers.
ESSENTIAL FUNCTIONS:
♦     Communicates with patient, family, caregivers, significant other and members of the healthcare team to achieve rehabilitation goals and promote maximum benefit of care.
♦     Provides an environment conducive to safety for patients, visitors and staff.  Assesses the risks for safety and implements appropriate precautions.  Complies with appropriate and approved safety standards.
♦     Utilizes the appropriate leadership skills in directing, delegating, and evaluation management Practice.  Applies management knowledge principles in order to comply with regulatory Agencies, Federal, State and hospital standards.
♦     Coordinates and integrates inter-departmental and intra-departmental services.
♦     Develops and implements policies and procedures that guide and support the provision of services.
♦     Continuously assesses and improves the quality of (care and/or services) provided.
♦     Demonstrates communication ability and creates mechanisms to facilitate effective communication within the department and the organization.
♦     Demonstrates delegation and leadership ability by providing problem solving, decision making.
♦     Meet with staff members as needed to discuss their performance competence and goal attainment.
♦     Review therapist's professional objectives.
♦     Determine annual competence of staff for their specific job function.
♦     Provide new staff orientation to job responsibilities.  Assist in determining end to probationary period.
♦     Facilitates the maximum utilization of personnel according to Corporate guideline.
♦     Assumes department responsibility for developing, implementing and evaluating a program of staff development for profession and non-profession staff that comprehensively includes competency assessment, orientation, in-services and continuing education.
♦     Recruits, interview, selects and hires qualified personnel; validates licensure as appropriate, assures the orientation of the new employee; and, evaluates personnel performance to include rewards, promotion, transfers, demotions, suspensions and terminations.
Performs patient assessment.  

Establishes plan of care.
♦     Assesses the effectiveness of treatment and modifies treatment to achieve goals.
♦     Provides care in accordance with physician's orders and established plan of care.
♦     Assesses educational needs of the patient, family, caregiver or significant other and provides education to meet those needs.
♦     Plans for discharge.
♦     Performs other duties as assigned to support the overall effectiveness of the department.
Qualifications
Current licensure as an Occupational Therapist, Physical Therapist or Speech Pathologist in the State current licensure as an Occupational Therapy Assistant or Physical Therapy Assistant in the State AND Bachelors or Masters in a Healthcare Management or related field.

Current Basic Life Support / CPR card.

At least two years of experience as a treating therapist. 

Inpatient rehab experience preferred.

Leadership experience preferred.                                           
Sign up for Job Alerts
Get the latest job openings based on your interests, skills and background sent directly to your inbox.
Connect with Our Recruiters
Share some preliminary info about yourself and we will contact you to discuss your interests and career and future opportunities.