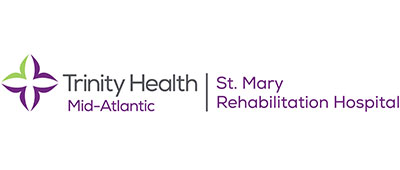 Registered Nurse - IRF - St. Mary Rehabilitation Hospital
Langhorne, Pennsylvania
Job ID 387651
Date posted 06/26/2020
Description
The first and only freestanding, inpatient acute rehabilitation hospital in Bucks County
St. Mary Rehabilitation Hospital (SMRH) embraces the tradition of excellence for which St. Mary Medical Center is known. We are very proud of our patient outcomes. St Mary Rehab Hospital has been ranked in the top 25 percent of all rehab hospitals by UDS (Uniform Data Systems) for multiple years.
Our state-of-the-art, acute rehabilitation hospital features 50 spacious, private rooms and two specialty units (brain injury and
stroke recovery). Our highly skilled, clinical staff is dedicated to the treatment and recovery of individuals who have suffered:
Stroke
Trauma
Neurological conditions including:
           Parkinson's Disease
           Multiple Sclerosis
           Guillian-Barre Syndrome
           Polyneuropathy
Brain Injury
Spinal Cord Injury
Orthopedic Injury
Amputation
Medically Complex Illnesses including: Cardiac and Pulmonary, and Renal disease
JOB SUMMARY:
Provides planning and delivery of direct and indirect patient care through the nursing process of Assessment, Planning, Intervention, and Evaluation. Develops nursing care plan in coordination with patient, family and interdisciplinary staff as necessary. Communicates changes in patient's clinical condition with Physicians, Nursing Supervisor/Manager, and co-workers as appropriate. Participates in discharges planning process.
Job Specific:
Accurately performs patient assessments and identifies patient needs.

Identifies and initiates appropriate nursing interventions.

Provides patient and family teaching throughout the rehabilitation stay and prior to discharge.

Provides care appropriate to condition and age of the patient.

Works cooperatively and actively participates with other members of the interdisciplinary team.

Participates in Continuous Quality and Performance Improvement (CQPI).

Maintains positive relationships with all customers.

Promotes rehabilitation nursing philosophy and scope of practice.

Actively participates in team conferences.

Performs timely and appropriate documentation relating to medical necessity in the medical record.

Responsible for completion and revision of the Interdisciplinary Care Plan for each patient.

Performs timely and accurate QI assessments.

Provides a safe environment for patients, visitors and staff and complies with appropriate and approved safety standards.

Supports the leadership for the hospital in a professional manner and acts as a role model.

Other duties as assigned.
Qualifications
As a Registered Nurse / RN you will have:
Graduate from an accredited Bachelors of Science in Nursing, Associate Degree in Nursing or Nursing Diploma program.
Current state licensure as a Registered Nurse.
BCLS certification.
Minimum six months' Medical/Surgical experience in an acute care setting preferred.
Sign up for Job Alerts
Get the latest job openings based on your skills and background sent directly to your inbox.
Connect with Our Recruiters
Share some preliminary info about yourself and we will contact you to discuss your career and future opportunities.