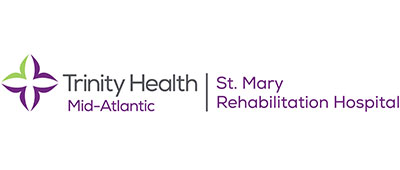 Nursing Assistant - IRF - PT, 6:30A-7:00P- St. Mary Rehabilitation Hospital
Langhorne, Pennsylvania
Job # 403204
Date posted 02/23/2021
Description
The first and only freestanding, inpatient acute rehabilitation hospital in Bucks County.
St. Mary Rehabilitation Hospital (SMRH) embraces the tradition of excellence for which St. Mary Medical Center is known. We are very proud of our patient outcomes. St Mary Rehab Hospital has been ranked in the top 25 percent of all rehab hospitals by UDS (Uniform Data Systems) for multiple years.
Our state-of-the-art, acute rehabilitation hospital features 50 spacious, private rooms and two specialty units (brain injury and
stroke recovery). Our highly skilled, clinical staff is dedicated to the treatment and recovery of individuals who have suffered:
Stroke

Trauma

Neurological conditions including:

Parkinson's Disease

Multiple Sclerosis

Guillian-Barre Syndrome

Polyneuropathy

Brain Injury

Spinal Cord Injury

Orthopedic Injury

Amputation

Medically Complex Illnesses including: Cardiac and Pulmonary, and Renal disease
Job Summary:

Provides direct and indirect patient care services that meet the psychosocial, physical and general aspects of care; meets the communication needs of patient and family; provides care that reflects initiative and responsibility indicative of professional expectations, under the supervision of a Registered Nurse or LPN. Maintain regulatory requirements, nursing and hospital policies, procedures and standards. Assists patients with activities of daily living, provides for personal care and comfort. Communicates with physicians and team members about changes in patient's clinical condition. Additionally, is able to perform general nursing duties in all departments with adequate supervision.
Responsibilities:
Performs patient care responsibilities considering needs specific to the standard of care for patient's age.
Provides morning care which may include bed bath, shower, oral hygiene, combing hair, back care, changing bed linens, cleaning overbed table and bedside stand, straightening room and other general care as necessary throughout the day.
Provides evening care which includes hands/face washing as needed, oral hygiene, back rubs, peri-care, freshening linen, cleaning overbed tables, straightening room and other general care as needed.
Notifies appropriate licensed personnel when patient complains of pain.
Assesses and documents FIMs on first three days of patient's admission.
Prepares patients for meals; serves and removes food trays and assists with meals or feeds patients if necessary.
Distributes drinking water and other nourishments to patients.
Answers patient call lights, anticipates patient's needs and makes rounds to assigned patients.
Assists patients with the handling of personal property: dentures, glasses, contact lenses, hearing aids, prosthetic devices, etc.
Performs all aspects of patient care in an environment that optimizes patient safety and reduces the likelihood of medical/health care errors.
Transports patients to and from various departments in the hospital.
Reports and when appropriate, records any changes observed in condition or behavior of patients and unusual incidents.
Assists in the preparation of admissions, transfers and discharge of patients.
Assists RNs and LPNs with treatment procedures.
Participates in and contributes to Nursing Care Conferences.
Demonstrates ability to revise plan of care as indicated by the patient's response to treatment and evaluate overall plan daily for effectiveness.
Integrates the plan of care with Rehabilitation Services treatment plan to attain patient's optimal level of functioning.
Provides general nursing care: positioning patients, lifting and turning patients, applying/utilizing special equipment, assisting patients with the bedpan, commode; assists ambulating patients. Uses correct body mechanics.
Checks patient for reddened areas or skin breakdown and reports to RN or LPN.
Obtains and records temperature, pulse, respirations, blood pressure, weight, intake and output.
Makes rounds with oncoming shift to ensure the unit is left in good condition.
Maintains a good working relationship both within the department and with other departments.
Communicates appropriately and clearly to team leader, co-workers, physicians and the Rehabilitation Services staff.
Consults other departments, as appropriate, to provide for an interdisciplinary approach to the patient's needs.
Demonstrates an ability to be flexible, organized and function under stressful situations.
Treats patients and their families with respect and dignity; ensures patient confidentiality.
Practices careful, efficient and non-wasteful use of supplies and linens and follows established charge procedures for patient charge items.
Follows infection control procedures. Keeps the unit clean and organized.
Meets current documentation standards and policies.
Manages and operates equipment safely and correctly.
Medical and surgical asepsis is carried out during treatments and special procedures.
Response to the patient is appropriate in emergency or physically distressful situation.
Performs other duties as assigned within the NA's scope of practice.
Qualifications
As a Nursing Assistant you will have:
Completion of course for nursing assistants.

Current Nursing Assistant Certification preferred

BCLS Certification required.

HS diploma or GED required.

Minimum six months experience in an acute or long term facility as a  Nursing Assistant preferred.
Sign up for Job Alerts
Get the latest job openings based on your skills and background sent directly to your inbox.
Connect with Our Recruiters
Share some preliminary info about yourself and we will contact you to discuss your career and future opportunities.