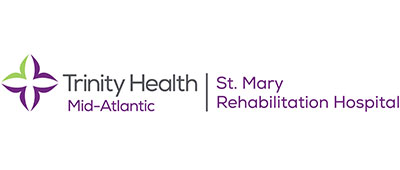 Nursing Assistant - IRF - Day Shift
Langhorne, Pennsylvania
Job # 407341
Date posted 04/23/2021
Description
The first and only freestanding, inpatient acute rehabilitation hospital in Bucks County.
St. Mary Rehabilitation Hospital (SMRH) embraces the tradition of excellence for which St. Mary Medical Center is known. We are very proud of our patient outcomes.
St Mary Rehab Hospital has been ranked in the top 25 percent of all rehab hospitals by UDS (Uniform Data Systems) for multiple years.
Our state-of-the-art, acute rehabilitation hospital features 50 spacious, private rooms and two specialty units (brain injury and stroke recovery).
Our highly skilled, clinical staff is dedicated to the treatment and recovery of individuals who have suffered:
Neurological conditions including:
Parkinson's Disease

Multiple Sclerosis

Guillian-Barre Syndrome

Polyneuropathy

Brain Injury

Spinal Cord Injury

Orthopedic Injury

Amputation
Medically Complex Illnesses including:
Cardiac Disease

Pulmonary Disease

Renal disease
JOB SUMMARY:
Under the direction of a Nursing Assistant, assists in the individualized care of the patient to achieve the patient's highest level of wellness. Greets and orients patient to the patient care area. Performs direct patient care, such as bathing, assisting with elimination, bed making, and vital signs. Performs meal service and feeding assistance functions. Transports patients and patient related materials in a safe, timely, and professional manner. Assists patients with other activities of daily living, such as dressing and grooming. Performs patient observation, documents patient care and response to care and communicates significant information to the NA and other appropriate team members. Works cooperatively with others as part of a team; recognizes the importance of group goals. Performs designated clinical procedures and non-clinical support tasks essential to providing care to the patient. Assists in operational support tasks or duties. Collaborates with other team member to perform other services as directed.
ESSENTIAL FUNCTIONS:
Perform basic patient care skills.

Demonstrate safe practices with caring for patients.

Apply generic healthcare knowledge.

Demonstrate workplace behavior skills.

Perform basic respiratory skills.

Perform basic clerical skills.

Consults with and keeps supervisor informed of unit activities, needs, and problems related to patient care.

Provides general nursing care such as position the patient, lifting, turning, applying/utilizing special equipment, assisting in the use of bed pan, urinal or commode, ambulating the patient, bed bath, oral and hair care, changing bed linens, cleaning and straightening patient room and other general care necessary.

Takes and records temperature, pulse, respiration, weight, height, blood pressure, and intake and output measurements accurately. Documents in a timely manner.

Prepares patient room and bed for admission and transfers and ensures all necessary equipment is in room. Maintains an attractive and comfortable environment for patients with special consideration to cleanliness of room, ventilation, and lighting.

Assists in patient admission, transfer, and discharge procedures. Assist with handling and care of patient belongings and other personal property.

Answers patient call lights, telephone, and paging system and responds as appropriate.

Serves and removes patient meal tray in timely manner. Assists with feeding and/or preparing items such as opening milk container and cutting food for patient.

Able to release, remove, and reapply restraints to patient under the direction of a NA. Ensures patient is in proper position and alignment.

Other related duties as assigned.
Qualifications
Previous experience in similar role is not required.

High school diploma or GED equivalent.
Sign up for Job Alerts
Get the latest job openings based on your interests, skills and background sent directly to your inbox.
Connect with Our Recruiters
Share some preliminary info about yourself and we will contact you to discuss your interests and career and future opportunities.