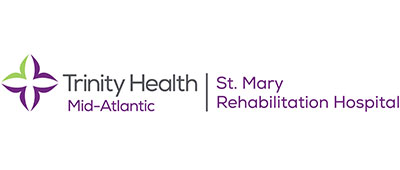 Admissions Associate - Full-Time
Langhorne, Pennsylvania
Job # 406021
Date posted 04/06/2021
Description
The first and only freestanding, inpatient acute rehabilitation hospital in Bucks County.
St. Mary Rehabilitation Hospital (SMRH) embraces the tradition of excellence for which St. Mary Medical Center is known. We are very proud of our patient outcomes. St Mary Rehab Hospital has been ranked in the top 25 percent of all rehab hospitals by UDS (Uniform Data Systems) for multiple years.
Our state-of-the-art, acute rehabilitation hospital features 50 spacious, private rooms and two specialty units (brain injury and
stroke recovery). Our highly skilled, clinical staff is dedicated to the treatment and recovery of individuals who have suffered:
Neurological conditions including:
Parkinson's Disease

Multiple Sclerosis

Guillian-Barre Syndrome

Polyneuropathy

Brain Injury

Spinal Cord Injury

Orthopedic Injury

Amputation
Medically Complex Illnesses including:
Cardiac Disease

Pulmonary Disease

Renal disease
Job Summary:
This position will work under the direction of the Director of Business Development and Admissions Coordinator and be responsible for patient admissions, insurance verification and other insurance verification duties as directed.  This individual will be responsible for obtaining the necessary demographic information of the patient which may require interviewing patients or their representatives.  This position is also responsible for preparing/processing admitting forms and keeps abreast of all new insurance updates and regulations.
ESSENTIAL FUNCTIONS:
Processes referrals and coordinates admissions of all hospital patients in an efficient, responsive manner. 

Coordinates the flow of information through the admissions process and forwards to appropriate departments for the successful completion of admission.

Collect and record all information necessary for admitting patients.

Immediately notifies appropriate rehab liaison to perform a clinical evaluation.

Completes Insurance Verification Form with benefit and billing information.

Pre- Admit all patients into appropriate EMR/Billing system – obtain correct general information.

Contact patient's insurance to confirm and determine amount of coverage and benefits, deductible due, length of stay and if pre-certification is required.

Obtain Pre-certification for inpatient rehabilitation stay and document necessary information for case management to follow up once patient admits.

Answers telephone promptly and courteously, providing information and completing all referral/intake forms as appropriate for each call.

Notifies appropriate departments of patient's anticipated admission date/time.

Notifies the appropriate personnel of the anticipated arrival time of all inpatients.

Inputs new referrals into EMR for clinical liaison to complete Pre-admission screen

Informs the patient of their verified insurance benefits and refers them to the appropriate finance department for further billing questions.

Creates working patient files to track progress of patient's admission

Maintains confidentiality of patient medical records information in accordance with hospital's defined policies and procedures.

Completes admitting paperwork, obtaining appropriate signatures, reviews information with the patient and family, obtain patient identification and insurance cards for copy.

Coordinates denial information with liaisons for follow-up communication to referral sources, families and physicians.

Backup for liaison communication and referral tracking

Must be cooperative and have the desire to be a team player.

Must recognize and observe confidentiality principles.

Consistently demonstrates the ability to organize tasks in order of priority.

Consistently performs job duties in an independent manner with minimal direct supervision required.

Performs other duties as requested by authorized personnel or as necessary for effective operation of the facility, including emergency situations.

Follow the step by step procedure outlined by Admissions Coordinator when receiving referrals.

Processes referrals and coordinates admissions of all patients in an efficient, responsive manner.  Assists with action plan for all pending cases to maximize conversion of referrals to admissions.

Prepares all forms completely and accurately prior to the arrival of all admissions.

Maintains up-to-date statistical data in computer information system within established time frames.

Ensures completion of all referral documentation and maintains filing systems.

Maintains, posts, and distributes an accurate census and referral information to administration hospital staff on a daily basis.

Maintains systems and processes for timely data-entry of pre-admit, admission, and registration of information for inpatients and outpatients.

Compiles daily and monthly statistics for admission, discharges, referrals and denials.

Prepares statistics for corporate report as designated.

Compiles and distributes weekly admissions/discharges list.  Monitors pending list daily.

Recognizes problems and assumes responsibility for helping to solve them when they occur.

Seeks supervisory help appropriate in problem solving and assists in implementing solutions.

Ensures patients have a good understanding of their insurance benefits and answers questions as needed.
Qualifications
High school diploma required. Some college preferred.

Minimum of 2 years experience in Admitting and/or medical insurance preferred.

Experience in handling patient admission preferred.

Extensive knowledge of insurance and their benefits and admitting forms.
Sign up for Job Alerts
Get the latest job openings based on your interests, skills and background sent directly to your inbox.
Connect with Our Recruiters
Share some preliminary info about yourself and we will contact you to discuss your interests and career and future opportunities.