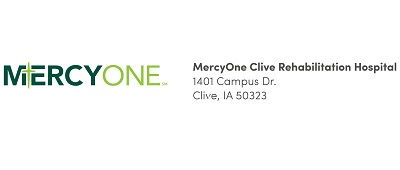 Registered Nurse RN PRN
Clive, Iowa
Job # 421096
Date posted 11/14/2021
Description
MercyOne Clive Rehabilitation Hospital is a state-of-the-art, 50-bed inpatient acute rehabilitation hospital dedicated to the treatment and recovery of individuals who have experienced the debilitating effects of a severe injury or illness.
Our rehabilitation programs provide ongoing care and specialized treatment to patients throughout their recovery journey. We offer customized, intense rehabilitation tailored to the individual needs of those recovering from stroke, brain injury, neurological conditions, trauma, spinal cord injury, amputation, and orthopedic injury.
MercyOne Clive Rehabilitation Hospital strives to maximize the health, function, and quality of life of those we serve through comprehensive physical medicine and rehabilitation programs.
Essential Functions:
Accurately performs patient assessments and identifies patient needs.

Identifies and initiates appropriate nursing interventions.

Provides patient and family teaching throughout the rehabilitation stay and prior to discharge.

Provides care appropriate to condition and age of the patient.

Works cooperatively and actively participates with other members of the interdisciplinary team.

Participates in Continuous Quality and Performance Improvement (CQPI).

May provide input into the budgetary planning process and contributes to cost effectiveness of services and programs provided by the department and hospital.

Communicates employee observations and suggestions related to opportunities for improvement and staff educational needs.

Maintains positive relationships with all customers.

Complies with regulatory and accreditation standards.

Responsible for personal and professional development.

Maintains ethical practices and HIPAA requirements.

Ensures compliance with policies and procedures regarding department operations, fire, and safety and infection control.  Maintains medical staff rules/requirements, as well as regulatory body standards.

Promotes rehabilitation nursing philosophy and scope of practice.

Actively participates in team conferences.

Performs timely and appropriate documentation relating to medical necessity in the medical record.

Responsible for completion and revision of the Interdisciplinary Care Plan for each patient.

Performs timely and accurate FIM assessments.

Provides a safe environment for patients, visitors and staff and complies with appropriate and approved safety standards.

Supports the leadership for the hospital in a professional manner and acts as a role model.

May assist in completion of performance evaluations.

Other duties as assigned.
Qualifications
QUALIFICATIONS:
Graduation from an accredited Bachelors of Science in Nursing, Associate Degree in Nursing or Nursing Diploma program.

Current state licensure as Registered Nurse.

CPR/BCLS certification. 

Mandatory Reporter Certifications

Minimum six months' Medical/Surgical experience in an acute care setting preferred.

Excellent oral and written communication and interpersonal skills.
Sign up for Job Alerts
Get the latest job openings based on your interests, skills and background sent directly to your inbox.
Connect with Our Recruiters
Share some preliminary info about yourself and we will contact you to discuss your interests and career and future opportunities.