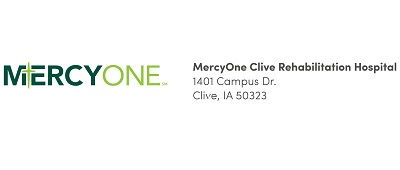 Nurse Manager - MercyOne Rehabilitation Hospital
Clive, Iowa
Job ID 391658
Date posted 08/25/2020
Description
MercyOne Clive Rehabilitation Hospital, a joint venture with Mercy Medical Center Des Moines and Kindred Health Care, is dedicated to treatment and recovery of individuals who have experienced the debilitation effects of a severe injury or illness.  Our rehab programs provide ongoing care and specialized treatments tailored to individual patient needs recovering from stroke, brain injury, neurological conditions, trauma, spinal cord injury, amputation and orthopedic injury.
The Nurse Manager functions under the direction and supervision of the Chief Clinical Officer and assumes responsibility for the Nursing Department. The Nurse Manager in collaboration with the CCO, and leadership team assists to implement, interpret and assure compliance with policies and procedures including regulatory and accreditation standards. The Nurse Manager directly supervises the RNs, LPNs and CNAs and is the leader in charge when administration is out of the building.  The Nurse Manager is responsible for implementing hospital goals and objectives based on budget parameters. The Nurse Manager reinforces the mission and vision of the hospital in all interactions.
ESSENTIAL FUNCTIONS:
Provides a professional working environment for employees.
Ensures the nursing department staff performs all aspects of patient care in an environment that optimizes patient safety and reduces the likelihood of medical/health care errors.
Ensures occurrence of appropriate documentation, including documentation of medical necessity, by staff in medical records; monitors completion and revisions to the Interdisciplinary Care Plan.
Assures compliance with nursing scope of practice and HIPAA.
Promotes rehabilitation nursing philosophy.
Enforces compliance of the nursing department with education/in-service requirements/orientation and competencies.
Promotes rehabilitation nursing philosophy and practice; encourages staff development, including acquisition of CRRN for qualified registered nurses.
Assists to review and evaluate risk and quality indicators, patient satisfaction results, and outcomes in order to continually improve performance and outcomes; communicates this information to the nursing department.
Coordinates new admissions including room and staffing assignments.
Ensures nursing attendance and participation in team conferences.
Ensures staff completes charting timely.
Ensures staff takes lunches when working 6 or more hours.
Ensures staff assignments are divided among staff taking into account acuity and other factors.
Manages staffing plans, nursing hours per patient day, and quality of work of nursing staff.
Ensures limited agency usage and overtime hours by managing and monitoring the schedule.
May have patient care assignment in addition to daily responsibilities.
Coordinates and directs appropriate rehab care needs related to patient/family educational needs, barriers or continuum of care requirements.
Serves as a clinical rehab resources for patients/families during their rehab stay.
Coordinates, and assist as needed, with rehab specific patient/family education.
Coordinates rehab patient care needs with front-line nursing staff, as well as, acts as a liaison between other members of the rehab team.
Assists with rounding on patients/families.
Assists with day to day coordination/follow-up of patient care and problem resolution.
Assists with ensuring FIM accuracy.
Other duties as assigned
MON-HRS
LI-HRS
Qualifications
QUALIFICATIONS:
Graduation from an accredited Bachelors of Science in Nursing, Associate Degree in Nursing or Nursing Diploma program.  BSN Preferred.
Current state licensure as Registered Nurse.
CPR/BCLS certification. ACLS preferred.
Mandatory adult and child abuse certification required
CRRN Certification preferred
Minimum of two years of previous nursing leadership preferred.
Minimum of two years previous rehab nursing experience preferred.
Excellent oral and written communication and interpersonal skills.
Demonstrates strong problem solving and critical thinking skills.
Sign up for Job Alerts
Get the latest job openings based on your skills and background sent directly to your inbox.
Connect with Our Recruiters
Share some preliminary info about yourself and we will contact you to discuss your career and future opportunities.