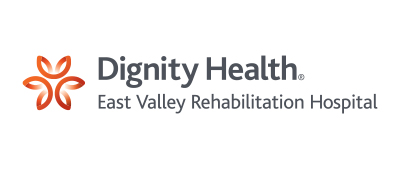 Certified Occupational Therapy Assistant
Chandler, Arizona
Job # 456416
Date posted 01/24/2023
Description
Dignity Health East Valley Rehabilitation Hospital is a joint venture operation and free-standing Post-Acute Inpatient Rehabilitation Hospital between Dignity Health and Kindred Healthcare.  Our two-story, 58,000-square-foot facility includes a stroke unit, therapy gym and 50 beds to serve patients recovering from significant neurological injury, illness and trauma and similar medical conditions.
JOB SUMMARY:
The Certified Occupational Therapy Assistant functions under the direct supervision of the Occupational Therapist and as directed by a licensed physician, is responsible for a specific patient's care.  The COTA assumes responsibility and accountability for providing occupational therapy modalities and treatment procedures as determined by a treatment plan established by an Occupational Therapist in order to restore function and prevent disability following patient illness or injury.  The COTA carries out these responsibilities in accordance with established hospital and departmental policies while maintaining the highest degree of quality patient care.
ESSENTIAL FUNCTIONS:
Under guidance of supervising OTR/L: Acquires pertinent information and implements comprehensive program using varied techniques and treatment activities; reviews and modifies treatment in response to changing patient needs; identifies equipment and discharge needs.
Is aware of patient injury/diagnosis and takes all necessary precautions for observing indications and contradictions.
Provides treatment to diverse diagnostic populations and completes supporting documentation according to hospital policy and State Practice Act.

Observes treatment affect, accomplishment of short and long term goals and recommends change to the supervising OTR/L, if needed.

Communicates collaborates with support personnel regarding treatment orders as directed by the supervising OTR/L.

Conducts the class/group situations (stroke, SCI, BI) as appropriate.

When necessary, instructs care giver/family members in home exercise program as related to the patient's functional and self-care status: discusses necessary equipment for the home situation.

Complies with department, hospital, and regulatory agency guidelines with respect to ethics, legal issues and supervisory relationships.  Demonstrates professional accountability per AOTA Occupational Therapy Code of Ethics and Standards of Practice.

Demonstrates appropriate and effective written, verbal and non-verbal communication with team members through the continuum of care.

Completes timely and accurate documentation, including

QI scoring,

of patient treatment in the patient medical record as indicated

The population is adult and geriatric patients requiring an adult medical rehabilitation program and services.

Able to assess patient pain interfering with optimal level of function of participation in rehabilitation; makes appropriate interventions to reduce pain after consulting with supervising OTR/L and makes appropriate physician contact as indicated.

Protects patient confidentiality in regard to medical, emotional, and social status.

Keeps the supervising therapist informed of patient's status, problem areas, progress, etc.

Perceives the existence of problems and notifies supervising therapist for implementation of safe, effective and timely solutions.

Demonstrates appropriate safety measures when implementing treatment programs.

Provides input/suggestions for the physical functioning of the department in the areas of equipment management, space utilization, storage, etc.

Assists in inventory and ordering of supplies and equipment.

Assists in maintenance of safe, clean work environment.

Assists in preparation/maintenance of daily treatment schedule.

Develops home programs and instructs patients in the programs as delegated by the supervising occupational therapist.

Provides written and updated treatment/coverage programs for days off.

Performs discharge planning under the direct supervision of the OTR/L (prescriptions, equipment requests, and referrals).

Reports on patient's status at patient care in team conference when necessary.  (Team conferences should be attended by the supervising OTR/L and with the COTA in attendance.)

Assists in program development and preparation to meet regulatory agency standards i.e. Joint Commission, CARF.

Observes, measures and records the cardiovascular responses of heart rate, blood pressure, and oxygen saturation.

Plans and presents educational programs for department; hospital and/or community.

Provides orientation, instruction, supervision and/or guidance to ancillary staff, COTA students, and volunteers.

May transport patients/equipment to/from therapy gym.

Uses computer system to assist in preparation/maintenance/printing of work list and entering of charges.

Utilizes specialized equipment, testing procedures and/or advanced treatment techniques with appropriate competency

Other duties as assigned
Qualifications
Current state licensure/certification as a Certified Occupational Therapy Assistant.

Previous experience in the care of patients preferred.

Current BLS/CPR.
Sign up for Job Alerts
Get the latest job openings based on your interests, skills and background sent directly to your inbox.
Connect with Our Recruiters
Share some preliminary info about yourself and we will contact you to discuss your interests and career and future opportunities.