Welcome to Kindred's Apply Process. The sooner you apply, the sooner you can experience all Kindred has to offer. Watch this video to get a quick overview of our career site including many of its features and benefits.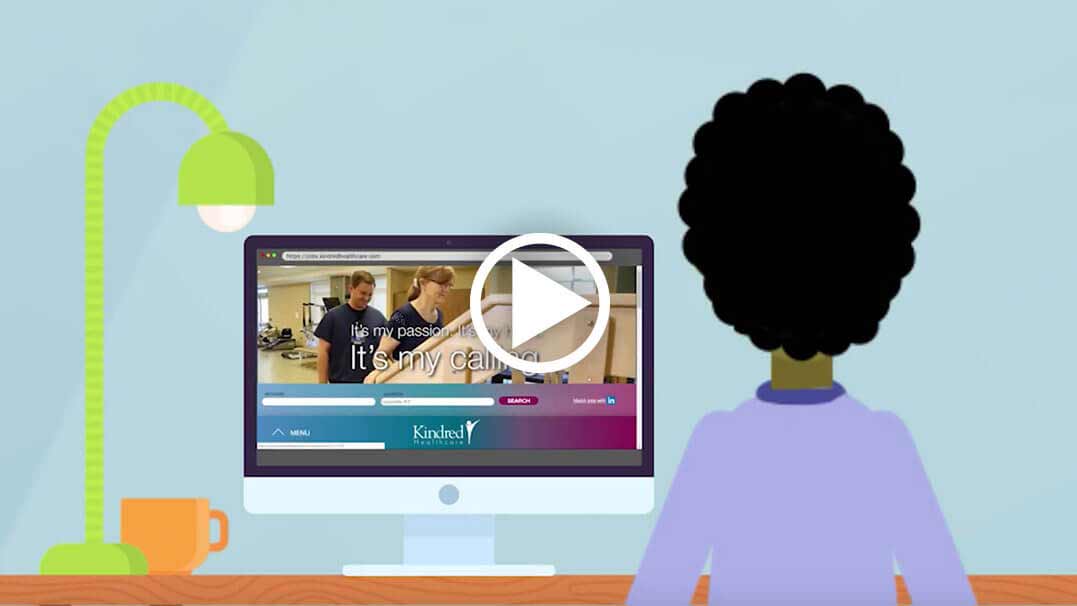 We hope that you've explored the site to learn why continued investment in our employees is a core value and key to our success. With a wide range of positions in multiple locations across the country, we have many opportunities for you to start or grow your career with us.
The Application Process
Click "Apply Now" when you see a job that matches your skills and interests.

Upload your resume, cover letter and submit your application.

You will receive a confirmation email after you submit your application.


Due to the range of positions and locations across the country, your individual apply and interview process may vary from another candidate. That's ok. We want to make sure the job you're applying for matches your interests and skills.

The Interview Process
If your profile and skills fit the job requirements, our recruitment team will reach out to you to schedule a phone interview.

Prepare for your interviews by learning more about our company, culture and the role for which you are applying.

Congratulations, if your interviews show you are a good fit, we will make an offer and get ready to welcome you aboard.
Current Employees Remember Their Hiring Experience

"We scheduled an interview for the same week I applied. The interview was relaxed and the tour gave me the chance to see what a great place Kindred is for new grads. Kindred is a wonderful place and the staff is very welcoming."
RN Interview

"I had an excellent interview with a highly skilled, helpful and experienced supervisor. The tour, meetings with staff, review of a typical day and the opportunity to ask questions made it a great experience overall."
Physical Therapist Interview

"The Rehab manager made me feel welcomed. I was given a tour of the facility and everyone was very friendly. I could tell there was an emphasis on teamwork and noted the family-like environment."
Physical Therapist Assistant Interview

"It was a very involved yet informative process. It was pleasant and I felt comfortable during the communication portion."
Activities Assistant Interview

"I went through a series of interviews prior to being hired. I could tell the company cares about who they hire."
Nurse Case Manager Interview

Have Questions Once You Apply?
We encourage you to give the application process time, however if you need to speak with someone immediately, our team will be happy to talk to you: 1.855.563.4473.
Sign up for Job Alerts
Get the latest job openings based on your interests, skills and background sent directly to your inbox.
Connect with Our Recruiters
Share some preliminary info about yourself and we will contact you to discuss your interests and career and future opportunities.